Desks > Sit Stand Desks > Electric Sit Stand Desk 1500 W-B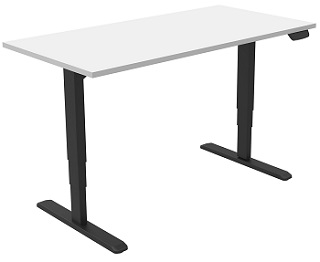 This Sit Stand Electric Desk has a desktop which is 1500mm long x 750mm wide. The desktop is 25mm thick MDF White and has a matching ABS edging. The frame is powdercoated in Black, with two post steel legs (with adjustable levelling glides), a dual electric motor (one for each leg) for height adjustment, and has a collision avoidance system. It also has a digital touch screen LED controller, and can store up to three memory height settings. Frame height range is 630mm to 1250mm. And it comes with a cable management shelf under desk top, and has a 100kg load capacity. Max speed is 38mm/s.

Pricing for one 1500 x 750 desk flatpacked is $810, plus delivery, plus GST.

Call us on (02) 9736 2183 to discuss, or click on the Enquire Now button to email us with your enquiry.