Office Chairs > Executive Chairs > Arti Interactive HBA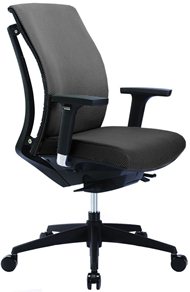 The ARTI Interactive high back executive chair has a patented flexible back support system, and the Arti Interactive has just been given the tick for 24 hour use and rated up to 150kg. The flexible back support system achieves ideal comfort by automatically conforming to the individual spine shape of each individual. Featuring an exclusive "flex back" support system, glass-filled nylon seat frame with seat slider, four-way adjustable aluminium armrests with PU pads, Donati knee-tilt mechanism with side tension control, safety lock, and strong PU castors. .

The ARTI Interactive comes standard in a black fabric.

Call us on (02) 9736 2183 to discuss, or click on the Enquire Now button to email us.