Office Chairs > Executive Chairs > Slimline AB3511FA LS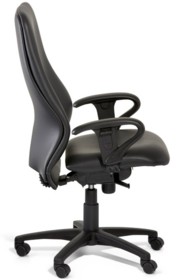 Pictured here is the executive chair in the SLIMLINE range. Considered to be one of the best executive chairs available, as it provides exceptional support, even while working at a computer. The model is an extra high back SLIMLINE executive chair with large size seat and with height adjustable arms, and with a fully upholstered backrest. The chair may be upholstered in any fabric or leather of your choice - speak to us about your upholstery options.

Also available as an optional extra is a polished aluminium base, as well as other arm profiles.

The SLIMLINE comes with a five year warranty on parts and labour.

Call us on (02) 9736 2183 to discuss, or click on the Enquire Now button to email us.