Office Chairs > Task Chairs > Inca TIN-MLA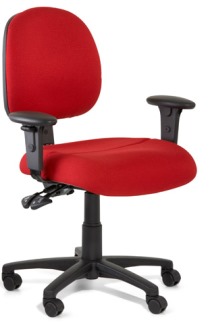 Pictured here is a medium back INCA chair with large size seat, and with height adjustable arms. Available in the range are three size seats (small, standard and large), a seat slide, three height backrests (medium, high, and extra high), height adjustable arms, three height gas lifts (low, standard and high), two height drafting bases, a polished aluminium base, and a heavy duty kit (available only with the large seat).

The INCA range comes standard with gas lift, seat with forward tilt lockable in any position, fully adjustable backrest lockable in any position, three lever operation, on a black base with castors, upholstered in your choice of fabric or leather.

The INCA comes with a five year warranty on parts and labour.

Call us on (02) 9736 2183 to discuss, or click on the Enquire Now button to email us.